2019 WORKSHOPS & EVENTS...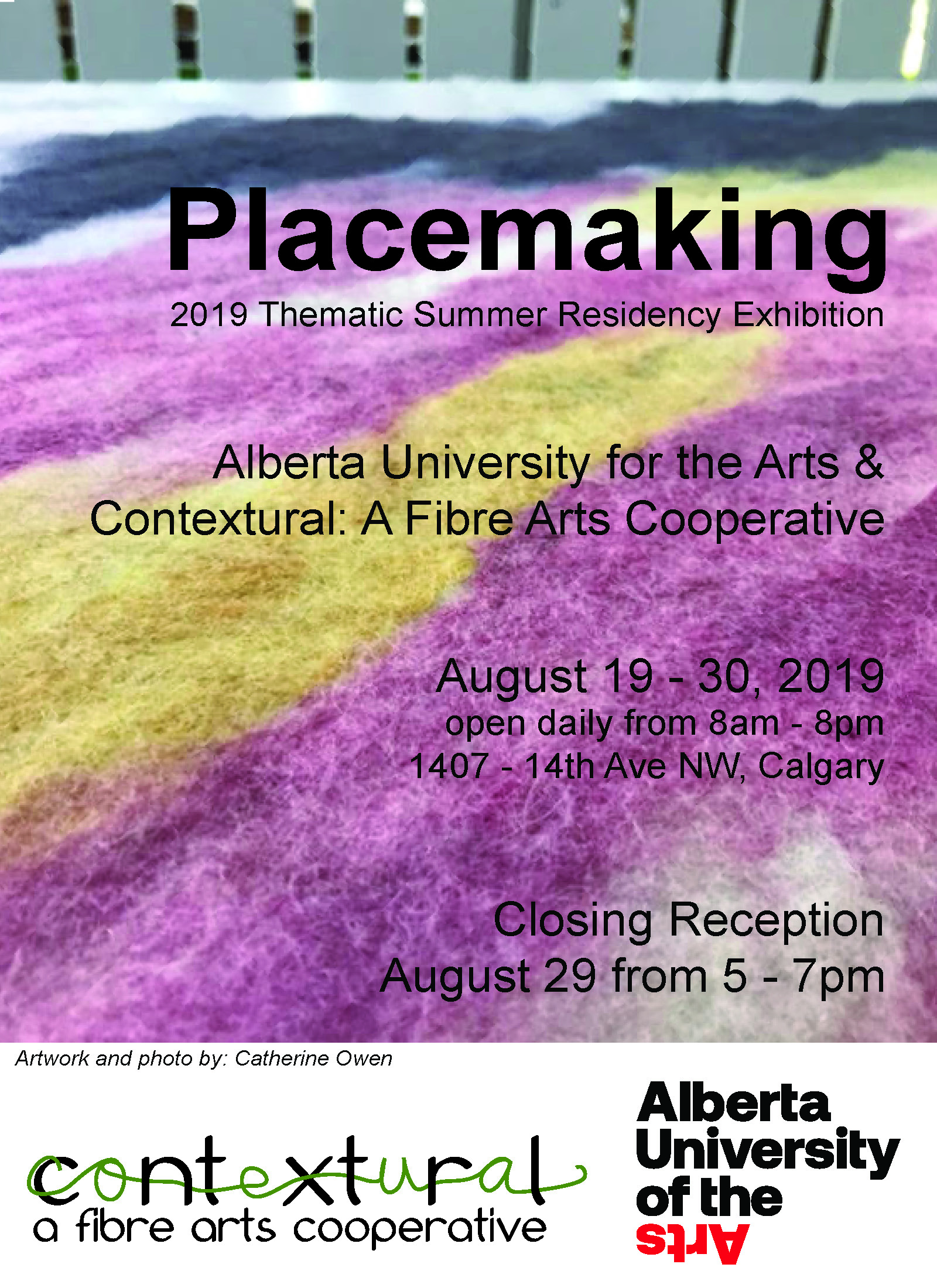 Placemaking: 2019 Residency Exhibition
August 19 - 30, 2019
open daily from 8am - 8pm
Alberta University of the Arts &
Contextural: A Fibre Arts Cooperative
1407 - 14th Avenue NW, Calgary
Closing Reception, August 29, 5 - 7pm
How do we understand a place? What are the social, cultural, political, historical, traditional, conceptual and personal dimensions that define place? How do these questions help artists to understand and explore the context in which they locate their research and work? The Placemaking Residency allows participants to consider these questions and more in a community studio environment, supported by an exciting mix of visiting artists and scholars. Make a place for your practice, for your voice.
Saturday, April 27, 2019
1:00pm-5:00 pm, $125
Natalie Gerber Studio & Workshops
cSPACE King Edward, 205 1721 - 29 Ave SW
NatalieGerber.ca
Create and print your own designs with me, an artist and surface designer. In this class you'll explore multiple block-printing techniques to create your own patterns on fabric and paper. You will use potatoes, rubber and foam to create your own unique stamps. This workshop appeals to beginner and experienced designers with a focus on low-tech processes that you can continue experimenting with at home. Take home your custom-printed stationary, tote bag and your handmade stamps.
photo credit: Natalie Gerber
2018 Contextural Christmas Artisan Sale
Friday, November 16 from 4:00-9:00pm and
Saturday, November 17 from 9:00am-5:00pm
Christ Church Elbow Park, 3602 - 8 Street SW
Contextural.ca
It's back! Calgary's only textile-based Christmas sale. It's so good, you won't want to miss out. I will be there with these zipper bags, pillows and scarves.
Evening Workshop: Block Printing Basics - SOLD OUT
Thursday, October 25, 2018
6:30-9:30pm, $89
Natalie Gerber Studio & Workshops, cSPACE
NatalieGerber.ca
Join me for an introduction to surface pattern design through block printing. Explore pattern with hands on demonstrations teaching the basic concepts of repeat and multi-colour block printing. Carve your own block for printing and take it home for further exploration along with your two finished tea towels!
Collective Fibres Artist Reception
Friday, March 23, 2018, 6:00pm-8:00pm
Wellspring Calgary, Fountain Court at 120703 - 64 Avenue SE
Join us for our Artist Reception for our exhibition of work COLLECTIVE FIBRES that is hanging from October 2017 to April 2018 at Wellspring Calgary - Fountain Court.Healthy bodies only as this is a supportive cancer care centre.
Contextural: a Fibre Arts Cooperative is a community of 26 textile artists fostering a cooperative creative environment in support of the production of artistic works. Contextural contributes to the artistic advancement of our members through access to a collaborative working environment, professional development and the exhibition of new work. Contextural.ca

Wellspring is a network of community-based support centres offering programs and services that meet the emotional, social, practical and restorative needs of people living with cancer and those who care for them. All Wellspring programs, services & resources are offered free of charge and without referral. Our vision is … No one has to face cancer alone. More info on their website. Wellspring.ca
Focus on Surface Design: Repeat Pattern Block Printing - SOLD OUT
Saturday, May 5, 2018
9:30am-4:30pm, $195
Natalie Gerber Studio & Workshops, cSPACE
NatalieGerber.ca
Join me in the studio for a focused workshop in block-printing repeat patterns for cloth. Develop a multi-colour repeat pattern for print while gaining block carving, colour mixing, registration and printing skills. At the end of this workshop you will have a greater understanding of the process, materials and history of block printing and a series of printed organic cotton/linen fat quarters for future projects.